Here is the text and pictures to the article published in the FloridAgriculture Magazine, December issue.
Square foot gardens and more
Learning how to grow at Stuart Middle School
There's good news and there's bad news about the
state of agricultural education in Martin County.
The good news is that Stuart Middle School has a
great agricultural education program with courses
taught by a dedicated instructor, John Webster, a UF
graduate who has been at the school for his entire
26-year career.
The bad news is that it's the only middle school in
Martin County that has an agricultural education
program.
Why has Webster stuck with his calling for all these
years while most others have pursued other disciplines? For Webster it's simple; "I just
want these kids to be able to experience agriculture," he declared.
Unless they happen to be in the band or chorus, that's exactly what every seventh
grader enrolled at Stuart Middle School gets to do. And they are able to experience
agriculture in a variety of ways.
"I teach units on poultry, aquaculture and
hydroponics," explained Webster. "In addition, each
student is paired up and grows crops in a square foot
garden."
The concept of square foot gardening has been
embraced by many agricultural education teachers
because it is very compatible with teaching and the
school environment.
It is intensive gardening with many plants grown in a
small area. A typical square foot garden might be 4
feet square. You could have 16 different plants
growing in 1-foot squares each.
The kids seem to love the idea of square foot
gardening. During FloridAgriculture's visit to the
school nearly every student we visited with was anxious to show us what he or she was
growing.
One of Webster's students, Brooke Emling, moved to Florida with her family last June.
They came south from Ohio. "We didn't have anything like this (square foot gardening)
in Ohio," said Emling. "This is really a fun class."
Another student, Steven Ryan, boasted to us that he had the biggest peanuts in the
class. Still another, Nick Moran, wasn't going to let us leave the school until we took a
photo of his "really big radish."
While many of the students already have motivation
to succeed, Webster gives them a little added
incentive through the issuance of ag dollars.
"I issue the dollars based on attendance, grades and
completion of student planners," Webster explained.
"At the end of each nine-week period we hold an
auction where students can use their ag dollars to
purchase plants and other items produced."
The school has a hydroponic greenhouse that was
donated by a grower from Palm City. When we
visited, there was a small, but impressive crop of
lettuce growing in the greenhouse. Remarked
Webster, "It still amazes me that you can grow crops but not get dirty."
Although the unit on hydroponics is scheduled to be taught later in the semester, one of
the students wasn't shy about telling us all about it.
Jonathan Myhre explained to us how the fertilizer is delivered in a liquid medium and
there is no soil involved. "They're using hydroponics to grow their own food in the
space station," Myhre told us. And, you know, he's right. We checked.
The safety and welfare of his students is something
Webster puts at the top of his list. "Before my
students are taught anything else they learn about
safety," said Webster. "I'll have them working with
tools and I want to make sure they don't hurt
themselves or anyone else."
Webster also minimizes the use of pesticides in the
students' gardens. "I pretty much stick to
applications of Ivory soap unless we get a really bad
infestation," said Webster.
The students grow a variety of crops from
sunflowers, to okra, to beans and peanuts. Some
crops are avoided, such as hot peppers, for reasons
of safety.
The soil is fertilized before the seeds are sown and
once more at about six weeks. Watering is
accomplished through an automatic irrigation system.
It seems like everybody nowadays has a Web site and Webster and his students are
not about to be the exception to this rule.
Visitors to <http://farmerbrown.org> will learn about Stuart Middle School's
agricultural education program, and then some.
Webster said that he created the Web site because
of his interest in square foot gardening. You can learn
a lot about the subject by visiting the site and, if
you're one of Webster's students, you can discover
ways to earn some extra ag dollars.
Webster's agricultural education classroom extends
out-of-doors at Stuart Middle School. In addition to
the square foot gardens and the hydroponic
greenhouse, there is a nursery greenhouse, a butterfly
garden, aquaculture tanks brimming with tilapia, a
small citrus orchard and a workbench area. And we
would be remiss if we failed to mention the
program's one-legged chicken.
"Our chicken is now about six-years old," said Webster. "When it was very young, a
raccoon broke into the pen and got one of its legs."
Over the years, Webster's classes have taken on various projects to help beautify the
Stuart Middle School campus. Working in conjunction with FFA and the
Greenschools club, they have planted gardens representative of several countries from
around the world. So far, the campus is home to Japanese, English and Italian gardens.
Webster has some additional help this semester in the
form of a volunteer who is completing her training as
a master gardener with the local Extension service.
Valerie Geever adopted the butterfly garden as one
of her projects and was working with the students on
the day of our visit. She seemed happy to be there.
Perhaps the value of the agricultural education
program at Stuart Middle School can best be
understood through the words of one of Webster's
students, Kayla Smith, who proudly posed for a
photo next to her square foot garden. "This is the first
time I've ever grown anything," Smith told us.
Here are the pictures that go with the article.
Katrina Sorricelli, left and Alison Howard are very proud of the sunflowers they have grown.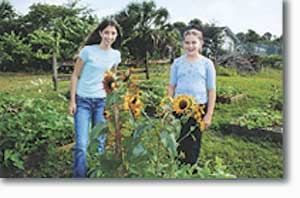 Stuart Middle School instructor John Webster speaks to one of his classes before letting the students tend to their square foot gardens (located in background).
Brooke Emling, a recent transplant from Ohio, shows us one of her "prize" cucumbers.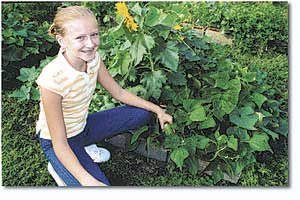 Elizabeth, Rakeem and Jon show off the crop of lettuce in the Hydroponic greenhouse.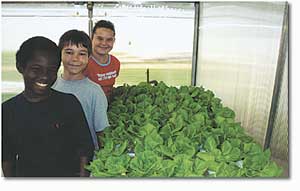 Nick Moran made sure we didn't leave the campus before taking a gander at his "big radish."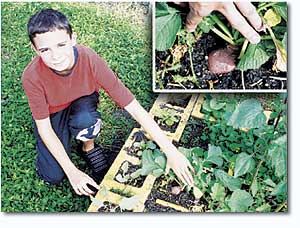 Posing next to her sunflowers, lettuce and other crips, seventh grader Kayla Smith told us that this was "the first time she had ever grown anything.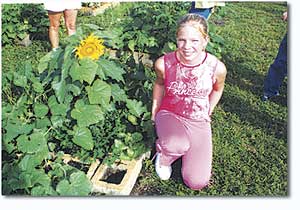 Click here to return to the Agriculture Class Home Page