Stuart Middle School's Agriculture
Welcome to Stuart Middle School's Agriculture Department.
Visit the FloridAgriculture Magazine here.

Students who wish to earn extra Agriculture Dollars for the Auction click here on the Dollar signs and follow the directions to get your Dollars. $$$$$$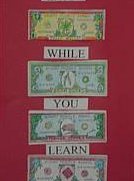 See the pictures below as you read about our class.

Here we have our Aquaculture area

Here is our Hydroponic Greenhouse

Here you see our Train Garden, Butterfly House and Storage Shed

The students gardens will be planted soon

The nursery provides many beautiful plants for sale and use on campus

The Happy People Putt-Putt Park is our 6 hole Mini Golf Course
AGRIBUSINESS AND NATURAL RESOURCES
SEVENTH GRADE -- ONE SEMESTER
MR. WEBSTER
Students will learn and perform tasks in a broad range of Agribusiness and Natural Resources Education Areas. Students are required to keep a note book of information that will be given to them in the form of handouts.
Required Materials: Clip type notebook- Available from the school bookstore. Three hole notebook paper, non-spiral. Pen (blue or black ink) and Number 2 pencils. Colored pens / markers or pencils (used from time to time).
This course is to have the students explore the many interesting aspects found in the world of Agribusiness and Natural Resources. Each student will grow, with a partner, a row garden from selected vegetables from planting to picking.
Some of the newest technologies will be studied in the areas of aquaculture and hydroponics along with current events that are taking place everyday around us so it is important that students keep up with these new ideas.
Student safety is very important. Classroom procedure and rules will be discussed so each student will know what to expect and what is expected of them. This will enable each student to have a safe and enjoyable learning experience.
Walk Down Our Garden Path
The main focus of our agriculture class and what is enjoyed by most of the students are the gardens. Each student has a partner and they grow a 20 foot row garden. Picture 1
Picture 2 . The students grow their garden from seeds directly sown into the garden soil and from seeds planted in flats. The seeds are later planted into the small newspaper pots then later set into the garden.
To make sure the students have a successful garden easy to grow beans and radishes are a crop required for each person to grow. Many students have never tasted a fresh grown bean or a raw green bean picked fresh from the bush.
Right out side the classroom is the Aquaculture Center . Four concrete tanks are the home for Goldfish, Koi and Tilapia. Biofilters along with ultra-violet light sterilizer and pool heaters help to keep the water at a condition that will provide for optimal growth of the fish.
Students need to realize that a large part of agriculture is the animal industry. Our part in all of this is our poultry . Last semester we hatched 4 chickens who have grown up to be two pairs. The hens are now laying eggs and the roosters are "Crowing" up a storm. In the unit on poultry, basic production of 6 kinds of poultry are discussed.
One of the big agriculture production areas in Martin County is the citrus industry. We have a small grove of citrus trees that is used to show the basics of growing and caring for dooryard citrus. The crop is enjoyed by many of the students and as a source of income for the FFA chapter.
The most popular area of the Agriculture Land Laboratory is the " Happy People Putt-Putt Park ". It is something that has evolved over the past 15 or so years. It started as a small nature trail and has now grown into a 6 hole miniature golf course. The plants in the park are used for plant ID and for the plant propagation units. Landscape design and maintenance are practiced with students taking care of the plants and the putting areas. This is one part of classwork that most all kids enjoy .
Conservation of our natural resources is stressed a great deal. Yard waste composting is practiced using our block compost pile . All our waste materials except very large limbs are allowed to compost down and the resulting soil is used for all our plantings.
The school has been working very hard in obtaining the Green Schools Award. This national awarded is presented to schools who work on various projects throughout the year. This year a larval garden was planted in the Land Lab and hopes are to erect a butterfly house next year.
The last stop on our www tour is the nursery . At this time we have a small plant nursery which in the next few weeks will undergo a complete overhaul. New weed matting will be used and column blocks will be set in place to organize the various plants that we grow.
This is just the first of many pages to show everyone who walks down this garden path what is going on in the Stuart Middle School Agriculture Class. Please visit again and if you have any questions please email me from the Main Page .
Return to Farmer Browns Garden Path