Grand Announcement!
"Cash Is Back"
Cash From Square Foot Gardening
Abundant Harvest, Healthy Finances, Healthy Families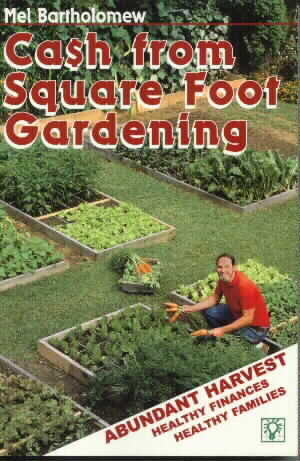 "There's an old saying, "DON'T FIX IT IF IT AIN'T BROKE". We're reprinting this book just the way Mel wrote it in 1985." from the forward by Suzy Valentine
This book takes the Square Foot method beyond normal home use and shows how to produce an ABUNDANT HARVEST for profit, to feed a large family, or to provide food and/or business experience for a group or insitution.
Click here to see the back cover.
To order send $14.95 plus $3.95 s&h
to:
Square Foot Gardening Foundation
P O Box 10
Eden
UTAH, 84310
For all orders send to the above address or
Call: 801-768-4957
For credit cards ONLY toll free 877-828-1188
Shipping and handling for items (to one address) 1st item $3.95 additional items $1.00 each
*************************************************************
When you purchase books and videos, all proceeds go toward the Square Foot Gardening Foundation humanitarian projects around the world.
New Square Foot Gardening Video
Mel Bartholomew, a retired engineer, invented a better way to garden using only 20% of the space and eliminating 80% of the work! Mel wrote the largest selling garden book in America and gained worldwide recognition through his weekly PBS television show.
Joining him is... Suzy Valentine. Her international background brings a vibrant new dimension to the Square Foot Gadening movement. she radiates sheer pleasure while sharing this unique method of growing flowers, vegetables and herbs.
You'll have fun watching Suzy and Mel demonstrate this earth-friendly method. In this fast moving 36 minutes, you'll learn everything you need to know to start your own Square Foot Garden and join millions in saying--- "I CAN DO THAT."
To Order
Send a check or M.O. for $12.95 plus $3.95 s & h
*********************************************************************
Square Foot Gardening Cap And Shirts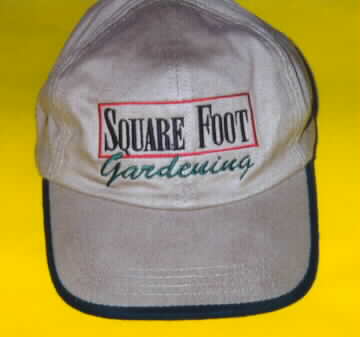 Now you can own your own Square Foot Gardening Cap. These caps are med brown in color with the Square Foot Gardening Logo on the front. They are 100% cotton. The size is adjustable.
The caps are $8.95 send a check made out to the Square Foot Gardening Foundation
I ordered mine and it was here in nine days.
Shipping and handling charges for shirts and caps and the book are as follows.
For orders include
For the first item $3.95
add $1.00 for the second item
for any additional items there is a $1.00 charge for each item for S&H
Square Foot Gardening Shirts
You can also order shirts with the Square Foot Gardening Logo . The T Shirts come in two colors, sage green and white $8.95. Order either Med, Large or Xlarge. Here are the shirts and cap . They fit me just fine. Order these from the above address.
The Largest Selling Gardening Book In America
Over One Million Copies Sold So Far.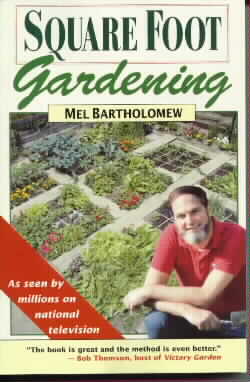 If you would like to own your own copy of this great book send a check made out to Square Foot Gardening for the soft cover book $16.95 or $21.95 for the hard cover book plus s&h of $3.95 to the above address
* A complete garden book for both the beginner and the expert.
*A new way to garden with 80% less space and work.
*The companion book to the nationally acclaimed TV series.
Wouldn't you like to have a place to go everyday to see beautiful flowers, luscious vegetables and no weeds! Well, that's what Square Foot Gardening is all about. No heavy digging, watering or weeding.
The Tapes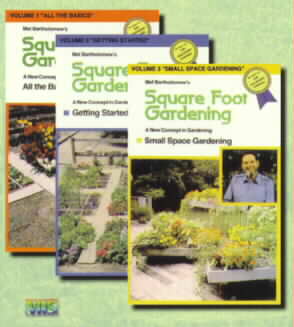 These video tapes capture the ease and beauty of Square Foot Gardening. Topic specific footage taken from the national television series, combined with footage never aired, makes each volume theme specific. Each video is approximately one hour.
* 1-All the Basics
* 2-Getting Started
* 3-Small Space Gardening
Any one tape for $14.95 plus s&h for one tape $3.95
Set of three $39.95 plus s&h for the the set of 3 tapes is $5.95
Other Items
Lesson Plan for Children --------------------------------------$14.95
Planting Guides Set of 4------------------------------------------$3.95
Organic Gardening Magazine reprints------------------------$3.95
** The following cannot be shipped, call 801-484-0908 for local pickup**
Mel's Tomato Tower 4'w x 5 1/2'h (includes netting)--$24.95
Tomato Netting 4' wide (per linear foot)------------------------$.50
Mel's Seed Starter 4' long (includes soil)-------------------$19.95
Mel's Mix 2 cu. ft. bag of special soil mix---------------------$8.95
Vermiculite 4 cu. ft. (course grade)-----------------------------$16.95
***************************************************************************
Utah residents please add 6 1/4 % sales tax

These prices are as of 4/15/2002 and may change.

Return to the Square Foot Gardening Main Page
Return to Farmer Brown's Garden Path